block-section row-start col-md-7
Caution seems to be dominating theme for 2019, not just for butadiene but also its derivatives. With a significant slowdown in Asia caused mainly by tensions between China and the US, as well as overall drop in SBR and ABS demand, what will this mean for the European market going forward along with its position within the global market?
Taking place for the first time in Vienna, the event will once again bring the most up-to-date and relevant information on current and future trends, new developments and end-user expectations. With a combination of networking and content, the 8th ICIS European Butadiene & Derivatives Conference is the must attend event for the European butadiene value chain.
Take a look at the 2019 brochure for more information on this year's content, speakers, and venue.
block-section row-end col-md-5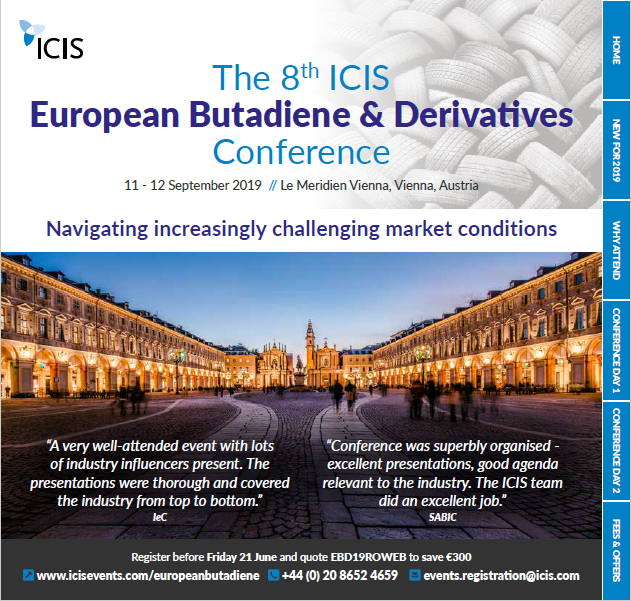 block-section colour-section row-start row-end col-md-12 center
Speakers
We have gathered together some of the most highly respected professionals in the industry to discuss the role in scaling companies in today's environment. Find out who features in our speaker line-up!
View Speakers
Interested In Speaking?
block-section row-start col-md-6
The ICIS Asian Butadiene & Derivatives Conference // 18 - 19 June, Singapore
ICIS is proud to take the growing butadiene and derivatives portfolio to Singapore in 2019. As the dominating market in SBR and other derivatives, we will be looking at where the market is heading and what this could mean for you and your company going forward.
With uncertainty currently facing Asian supply and demand and with significant drops in derivatives demand, the Asian market is currently facing a period of significant change.
block-section colour-section row-start row-end col-md-12 center
Sponsors
Take this opportunity to nurture existing relationships and create new high level contacts through bespoke promotional packages. If you are interested in sponsoring this event, get in touch by requesting a call from our Sponsorship team.
Request a call
Sponsorship Opportunities
full-section row-start row-end col-sm-12 center
Network with industry leaders
During the conference you will hear from and be able to network with some of the industry's senior executives representing the entire European Butadiene value chain. Why not try our 'Attendee Networking Tool' to book meetings with registered delegates?
Why Attend?
Attendee Networking Tool
colour-section register-section row-start row-end col-xs-12 center
Earlybird Discount Available
Complete the online registration form before Friday 21 June and save €300