sponsors-section row-start col-xs-12
Sponsors
Platinum Sponsor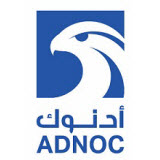 ADNOC
ADNOC is a major diversified group of energy and petrochemical companies, that has a production capacity of 3.5 million barrels of oil and produces 9.8 billion cubic feet of raw gas a day. Our integrated upstream, midstream and downstream activities are carried out by 14 specialist subsidiary and joint venture companies. We operate across the entire hydrocarbon value chain, through a network of businesses, with interests that range from exploration, production, storage, refining and distribution, to the development of a wide-range of petrochemical products. For over 45 years, we have played an integral role in Abu Dhabi's economic development, managing, producing and preserving the Emirate's hydrocarbon reserves on behalf of the Abu Dhabi Government. We are the principle catalyst of growth in the Emirate, and our work has had a positive and lasting impact on the quality of millions of lives. Since 1971, we have created thousands of jobs, driven the growth of a diverse knowledge-based economy, and played a key role in Abu Dhabi's global emergence. Today, we continue to look for new and innovative ways to maximize the value of our resources, pioneering those approaches and technologies that will ensure we are able to meet the demands of a never-changing energy market, and continue to have a positive impact on the Abu Dhabi economy for generations to come.
CFT Group
CFT Group"With over 600 employees, more than 15.000 references, 13 brands, more than 6 production facilities, and a widespread network of 10 subsidiaries and more than 90 agents, CFT Group is synonymous of quality, innovation and reliability worldwide. CFT Group designs, engineers and manufactures machineries and complete turnkey lines for the Food, Liquid Food and Beverage industry. Decades of experience and know-how of leading brands in their respective sectors, such as Rossi & Catelli, Manzini, Sima, Comaco, SBC, Levati, PKS, COMAC and Milk Project allow CFT GROUP to offer a complete equipment portfolio based on the most advanced technologies. Everyday millions of tons of fresh products are processed by our plants; millions of cans, bottles and special containers for multiple applications: CFT Group solutions help you reach higher performance.
Fluid Solutions
Fluid Solutions"Your preferred technology partner". Our expertise contains of revamping to green - field turnkey operations for Lube oil blending/Grease/ Resin manufacturing and Oil recycling solutions (with the usage of the Cyclon Plasma Tube Reactor – CPT Technology; patented exclusively by Fluid Solutions) for retrieving high quality base oil and usable secondary products. We provision flexible solutions and services globally: · Project design, Engineering (Basic/Detailed/ FEED), · Construction (EPC), · Key Equipment (Automatic Batch Blending (ABB), DDU, AMBB, ILB, SMB, Automation & pigging equipment). "Fluid Solutions holds 30+ years of experience in being your one stop solution provider. To find out more visit www.fluid-solutions.de.
Eni
Eni: an Italian company with a worldwide presence We are one of the global oil and gas super-players , operating in 71 countries worldwide and employing around 33,000 people in oil and gas exploration, production, refining and selling operations, electricity and chemistry activities. Eni Refining & Marketing operates in the Lube Additives Business through an integrated cycle: research and development , raw materials procurement, production, sales and after sales service. Eni Additives offers components and packages meeting the most stringent specifications. Thanks to its technical assistance and logistic structure, Eni Additives sells its products worldwide meeting the needs of small and large customers, acting as a reliable partner to develop tailor-made projects.
colour-section register-section row-start row-end col-xs-12 center