block-section row-start col-md-6
Each year, the same week in February is firmly etched into the base oils and finished lubricants markets' calendars. A week that provides the industry with their most important global platform to conduct their internal and external business meetings, as well as gather critical information on the market trends and trade dynamics that will help shape their commercial strategies for the year ahead.
2020 will play host to the 24th edition of this leading event, but with a host of new features for you to benefit from, this time across 3 conference days. With high-level content and unparalleled networking that nearly 700 attendees have become accustomed to year-on-year, the ICIS flagship meeting will take place 17-21 February 2020, once again at the Park Plaza Westminster Bridge Hotel in London, offering a full 5 days of in-depth information. This includes:
Two base oils training courses on 17 & 18 February 2020
Three-day market-led conference on 19, 20 & 21 February 2020
Gala reception

on the evening of Day Two

Technical Open Forum

, looking further into new specifications and approvals landscape

Commercial Open Forum

, providing attendees with insights to shape business strategies into the next decade

Lunch & Learn session

on the lesser discussed

Groups IV and V
Base Oils Bite-size

programme, consisting of short presentations that will take place within the Exhibition Floor

'Food for thought'

lunch debate on whether EVs will be the way forward and dominate or not
Rising Stars Reception

recognising and celebrating the very best young talent working in the base oils and finished lubricants industries

An afternoon

reception celebrating and recognising women in base oils and lubricants
Commercial showcase enabling sponsors to promote their product

or process to the audience live from the Exhibition Hall

Breakfast briefings

, on Day Two for senior executives and on Day Three focused on marketing

Keynote interviews

from thought leaders in base oils, finished lubricants and additives

Keynote presentation from within the world of motoring
Dynamic panels

on topics including

electrification, Group I

, and

addressing risk

within base oils

Expert presentations

tackling topics such as the

value of marketing '+' base oils

and

compliance and implementation of IMO 2020
And much more...
block-section row-end col-md-6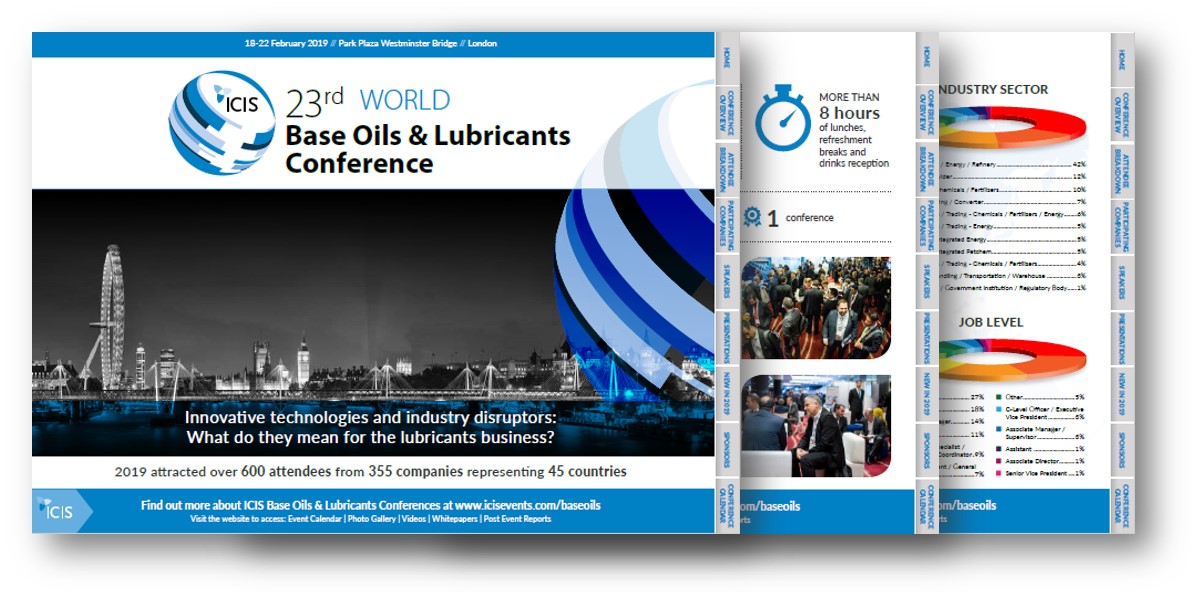 block-section row-end col-md-6
Watch the 2019 Conference Video
block-section row-end col-md-6
colour-section register-section row-start row-end col-xs-12 center
Early Bird Rate Available Now!
Take advantage of our early bird rate and save £200 off the standard booking fee, make you secure your place on or before the 6 December.
Register Now
block-section colour-section row-start row-end col-md-12 center
Speakers
We are currently working on gathering some key speakers for our 24th edition. If you are interested in speaking at this event, please get in touch with us by clicking the link below.
Interested in speaking
full-section row-start row-end col-sm-12 center
Agenda
We are working on the agenda and soon be announcing the focus for 2020 and key topics.
Keep me updated
colour-section register-section row-start row-end col-xs-12 center
Base Oils Training Course Series 
Two training courses will run alongside the conference, a day of introductory base oil training as well as a second course on product qualities and global profitability. If you would like to receive updates on the training agenda, please fill in the form below. 
Keep me updated
full-section row-start row-end col-sm-12 center
Sponsorship Opportunities
The ICIS World Base Oils & Lubricants Conference offers a variety of sponsorship opportunities including thought leadership, networking; at private lunches, dinners and in the exhibition area - as well as high profile branding opportunities. If you are interested in becoming a sponsor, please request a call back.
Request a call back