full-section row-start row-end col-xs-12 center
Why Attend?
block-section row-start col-md-6
New sessions and features
Rapid-fire insight: Region-specific macroeconomic market dynamics
Business Card Exchange Networking Session
Trade Disruptions Focus Groups
Put your skills to the test: Forecasting practice
End-user opening keynote from the automotive industry
Multiple presentations using ICIS data and analyses will give you confidence to make strategic choices, no matter in which business sector you work.
---
Q&A
Each presentation includes time for questions and answers, giving you the opportunity to ask pertinent and specific questions about your biggest challenges.
---
block-section row-end col-md-6
Networking
As a growing industry, it's necessary to keep in contact with your peers and potential business partners, as well as expand your commercial network to strengthen your success in chemicals.
As standard, networking breaks are scheduled into the agenda throughout both days to give you the opportunity to meet with your peers and discuss the presentations from that day. We are also introducing a Networking Breakfast to give you that extra time!
Plus, our new
Networking Platform
makes it easy to book meetings in advance and chat with delegates ahead of the conference.
---
Post-event report
Take a look at the post-event report
for the 12
th
ICIS World Chemical Purchasing Conference for more information on last year's content and speakers as well as delegate feedback and the full attendee breakdown including company name, country, job level and company type and for an idea of what to expect this September at the 13
th
edition.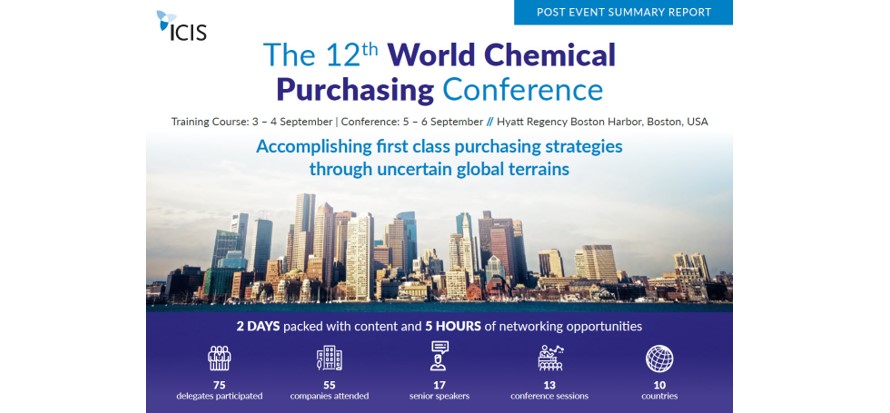 full-section colour-section row-start row-end col-md-12 center
Register your interest
Click on the button below to register your interest in the conference and training course.
Click here