full-section row-start row-end col-xs-12 center
Why attend?
Testimonials
Register

The World Chlor-alkali Conference has established itself as one of the leading events within the industry. With consistent history of expert speaker line-up, wide representation of audience across the value chain and outstanding topic outline, this event should not be missed.
full-section row-start col-xs-12
What's in the 2020 agenda for you?
Find out more about the impact of unprecedented changes in the global economy and what it means for the industry. This discussion will be led by Bloomberg
Hear thought-provoking and exclusive insight from Hiranyavarnaam Chemicals & Alkalis Pte Ltd as the speaker examine the theme "Why forecasts failed?"
Discover key trends and developments that are happening globally as we tackle the following regions: USA, Europe, Asia Pacific 
Technology showcase: hear from different global technology providers as they share their insights into digitizing asset data, project management and process optimisation
An evening of extended networking opportunities: Day one will conclude with a Drinks reception providing you with a platform to meet new business contacts
In 2019 see below the types of companies who attended and the job titles the conference welcomed: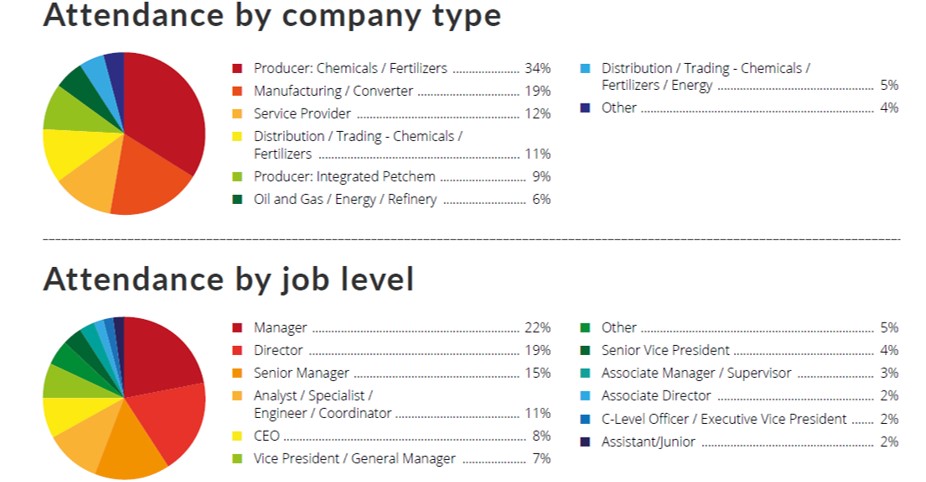 colour-section register-section row-start row-end col-xs-12 center
Early Booking Discount Available
Take advantage of our early booking discount offer saving you $200 off the standard rate, make sure you book your place(s) by 6 March.
Register Now