sponsors-section row-start col-xs-12
Sponsors
sponsors-section row-mid col-xs-12 sponsor-row
Refreshment Break Sponsor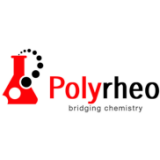 Polyrheo is a Canadian Speciality Chemical Manufacturer & Global distributor.
Global Surfactant & Oleochemicals producer with a worldwide reach. Our operations, with production facilities, offices, logistical support & warehouse facilities are spread out in North America & globally too.
Our Raw Materials are from the purest natural & sustainable resources, made with consistent high quality throughout the world.  RSPO Member. Our focus is to provide you with the best quality products, with unbeatable service.
Some of our Main Products offered being :
Fatty Acids: Full range from C6 to C22 - Vegetable Oil Fatty Acid, Soya Fatty Acids, Coconut oil Fatty Acids, Lauric, Myristic , Stearic acid , Behenic, Various other fatty acids & Fatty Acid Esters – SMO, SML, SMP, SMS, etc.
Fatty Alcohols: Full range from C6 to C22, Cetyl alcohol, Stearyl Alcohol, Ceto/ Stearyl Alcohol, Behenyl and various other Fatty Alcohols
Surfactants: Sodium Lauryl Ether Sulphate – SLES 2 moles 70% , 56 % and 28 %
Sodium Lauryl Sulphate  - SLS – Needles & Powder - Cosmetic and Pharmaceutical Grades
Fatty Alcohol Ethoxylates – All kids, Lauryl Alcohol Ethoxylates, 7, 9 MOLES etc ,
Allyl Alcohol Ethoxylates & Propoxylates,
Custom alkoxylates – ethoxylates & Propoxylates , EO/PO Copolymers.
Rheo-Terge AS 40 – Alpha Olefin Sulphonate  ( AOS ), Coco Amido Propyl Betaines (CAPB )
Glyceryl Mono Stearate (GMS-SE), EGMS, POLYQUAT 7, CETAC 30, etc
LABSA/ DDBSA : Linear Alkyl Benzene Sulfonic Acid 96  & 98 % / DDBSA / LAS
Rheosurf CS 34 –Liquid , CMEA blend to replace CDEA
CMEA – beads & CMEA - Liquid
Speciality Surfactant Blends
Castor Oil – Various grades & CO Derivatives,  12 Hydroxy Stearic Acid, Castor wax MP 80, etc
PEG 200, 400, 1000 etc & MPEG 350, 750 etc 's , TDA, etc
sponsors-section row-mid col-xs-12 sponsor-row
Lanyard sponsor
Sasol Performance Chemicals develops and markets a broad portfolio of organic and inorganic commodity and specialty chemicals and comprises three key business divisions: Organics, Advanced Materials and Wax. Our offices in 18 countries serve customers around the world with a multifaceted portfolio of state-of-the-art chemical products and solutions for a wide range of applications and industries. Surfactants, surfactant intermediates, fatty alcohols, LAB, short-chain linear alpha olefins, mineral oil-based and synthetic paraffin waxes, high-purity and ultra-high-purity alumina as well as high-quality carbon solutions form the basis of our key product range.
As individual as the industrial applications they serve, the tailor-made solutions offered by our products create real business value for customers. Our products are used in countless applications in our daily lives to add value, security and comfort.
sponsor-section row-mid col-xs-12 sponsor-row
sponsors-section row-start col-xs-12
colour-section register-section row-start row-end col-xs-12 center
Early Booking Discount Available
Complete the online registration form by Friday, March 1st and save up to $300.
Register Now